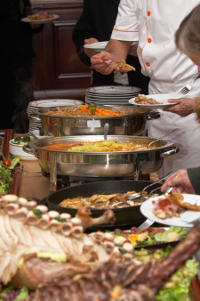 This program provides coverage in the event that someone gets sick while eating your food, injures themselves if they trip over a piece of your equipment, or someone gets scalded by a hot dish and decide to hold you responsible and take you to court.
Our policy will respond to defend you in a court of law, should someone bring a suit against you for these types of injuries.
Designed for

Individuals or companies in the food catering business. Caterers must hold a valid Food Handler Certificate. If alcohol is included a valid liquor permit or license must be in place for service of alcohol as well as servers must hold a valid Smart Serve or Serve It Right Certificate.
Available for Single events or Annual Terms.
Coverage
We offer limits of liability from $2,000,000.00 to $5,000,000.00 with a $1000.00 Deductible. (some exceptions may apply)
Coverage included; Commercial General Liability including Third Party Property Damage/Bodily Injury, medical payment ($2, 500pp/$25,000.00 max) Non Owned Auto, food and Beverage Product Coverage, Cross Liability, Employees/Volunteers as Additional Insured and Tenant's Legal Liability ($500,000.00+)
Coverage to be offered is for the caterer only. Policy does not extend to the event host therefore insured should advise that the host should obtain their own event liability insurance.