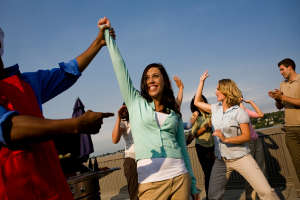 Prize indemnity gives you the ability to offer special contests and promotions while transferring the risk to an experienced and financially bound insurer.
Designed for
Running a contest can result in a very lucrative marketing opportunity for your business. People love to participate in contests and you now have the opportunity to have your fans, customers and clients WIN BIG without spending big money yourself.
Examples of contests
WEATHER PROMOTION
A guaranteed way to increase sales for a business or sponsor! This program is perfect for big ticket sales like cars and jewellery. This contest could pay the customer's purchase or offer a rebate if a certain amount of snow or rain occurs on a selected peril date.
For Weather Contests, click here for application
CRACK THE CODE
This is an excellent contest to capture the customer's attention at high traffic events Whether it is at a mall, a consumer show, a job fair or other, we can create a successful promotion. Contestants must "crack the code" to win grand prize.
ENVELOPE/NUMBER DRAW
This type of promotion can be applied to many different events/promotions; it is very versatile. Most popular is: Pick the winning envelope out of 100 and you are the lucky winner of the grand prize!
CURLING
Each participant gets to draw their rock without the assistance of any sweepers; if the rock completely covers the button, the participant is the grand prize winner.
BASKETBALL
There are many possible contests available for this great sport. We can offer ½ or ¾ court shoots, progressive shoots where the participant must get 4 baskets in 24 seconds from 4 locations or a rapid fire style promotion where participant must attempt 14/ 15 baskets in 60 seconds from 3 point line.
FOOTBALL
Again we can offer anything from kicks, throws, score predictions, flatbed field goal and many others. Distances can be designed to meet every budget.
For General Prize Indemnity contests as listed above, click here for application
Contact Information
For additional information on this program please contact:
Jennifer Stackhouse at 1-800-265-8098 ext. 242
e-mail: This email address is being protected from spambots. You need JavaScript enabled to view it.